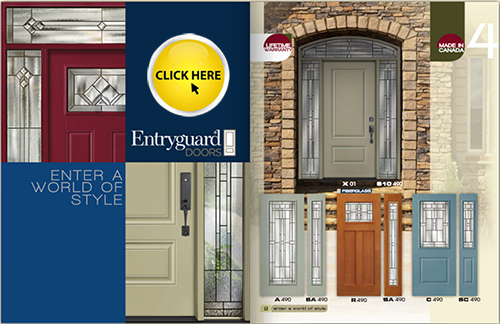 The Vinyl and Aluminum Warehouse door is a quality door, designed for durability and reliability through all weather conditions. Choose from our wide selection, including our insulated Entryguard doors which preserve heat during winter and maintain cool air during the summer—and come with a lifetime guarantee!
Front Doors—Making an Entrance
Front entrance doors are much more than key access points into your home. Make a bold impression and increase your curb appeal by choosing from our many beautiful entry doors for Ottawa home improvement enthusiasts, knowing you're also secure from harsh weather and intruders.
Front Door Styles
The Vinyl and Aluminum Warehouse offers door styles at competitive prices and for every taste. When you browse our collections, you'll find options for modern, classic, or even vintage looks as well as features like sidelights, transoms, and privacy glass inserts. For more basic styles, browse our executive collection. For quality you can trust, come to us for premium front doors in Ottawa!
The Entryguard Difference
In door construction, the right materials matter. Entryguard doors are built to last—in fact, they come with a lifetime warranty. No matter the style, Entryguard doors are all built to the same exacting standards and they showcase important structural features:
– Fail safe double premium magnetic weatherstripping—ensures a tight seal to minimize heat loss and cool air loss
– An extra reinforcement plate at the strike jamb gives added security and peace of mind with matching hinges for added beauty
– Galvanized steel skins that are hot dipped—resist cracking, splitting, warping, and rusting
– Self-draining sill system (thermally broken)
– PVC door-lite frame that will never require re-painting. The integral weatherstrip provides a seal that provides maximum water and air tightness
– Polyurethane foam insulation will provide an insulation value six times that of wood
– Full 12″ wood lock block for extra strength and security
– Thermally efficient pine frame—finger jointed to resist warping
– Self-draining and leak-proof adjustable combination sweep—provides a positive triple-seal against air and water infiltration